Ram 1500/2500/3500: Cargo Light
The cargo lights are turned on by pressing on the cargo button.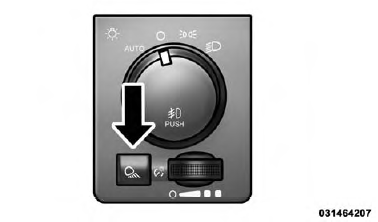 Cargo Light Switch
The cargo lights will also turn on for approximately 30 seconds when a RKE transmitter UNLOCK button is pressed, as part of the Illuminated Entry feature.
Multifunction Lever
The multifunction lever is located on the left side of the steering column.
Turn Signals
Move the multifunction lever up or down and the arrows on each side of the instrument cluster flash to show proper operation of the front and rear turn signal lights.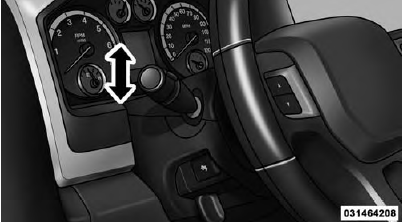 Turn Signal Lever
NOTE: If either light remains on and does not flash, or there is a very fast flash rate, check for a defective outside light bulb. If an indicator fails to light when the lever is moved, it would suggest that the indicator bulb is defective.
Lane Change Assist
Tap the lever up or down once, without moving beyond the detent, and the turn signal (right or left) will flash three times then automatically turn off.
Flash-To-Pass
You can signal another vehicle with your headlights by partially pulling the multifunction lever toward the steering wheel. This will cause the high beam headlights to turn on until the lever is released.
High/Low Beam Switch
Push the multifunction lever toward the instrument panel to switch the headlights to high beam. Pulling the multifunction lever back toward the steering wheel will turn the low beams back on, or shut the high beams off.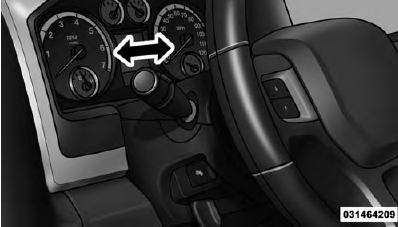 High/Low Beam Switch
READ NEXT:
The wipers and washers are operated by a switch in the multifunction lever. Turn the end of the handle to select the desired wiper speed. Windshield Wiper/Washer Switch Windshield Wiper Operation Rot
This feature senses moisture on the windshield and automatically activates the wipers for the driver. The feature is especially useful for road splash or overspray from the windshield washers of the v
SEE MORE:
Selection Of Lubricant It is important to use the proper transmission fluid to ensure optimum transmission performance and life. Use only the manufacturer's specified transmission fluid. Refer to "Fluids, Lubricants, and Genuine Parts" in this section for fluid specifications. It is important to ma
Winch Components Motor: The winch motor is powered by the vehicle charging system and features a thermal protection switch that automatically stops motor function in the power-in direction if the motor gets too hot. Remote Socket: The remote socket allows the remote control to be attached to