Ram 1500/2500/3500: Driver Adjustable Pedals - If Equipped
The adjustable pedals system is designed to allow a greater range of driver comfort for steering wheel tilt and seat position. This feature allows the brake, accelerator, and clutch pedals (if equipped) to move toward or away from the driver to provide improved position with the steering wheel.
The adjustable pedal switch is located to the left side of the steering column.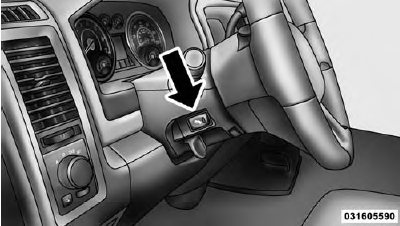 Adjustable Pedals Switch
The pedals can be adjusted with the ignition OFF.
The pedals cannot be adjusted when the vehicle is in REVERSE or when the Electronic Speed Control System is on. The following messages will be displayed on vehicles equipped with the Electronic Vehicle Information System (EVIC) if the pedals are attempted to be adjusted when the system is locked out ("Adjustable Pedal Disabled - Cruise Control Engaged" or "Adjustable Pedal Disabled - Vehicle In Reverse".
NOTE:
Always adjust the pedals to a position that allows full pedal travel.
Further small adjustments may be necessary to find the best possible seat/pedal position.
For vehicles equipped with Driver Memory Seat, you can use your Remote Keyless Entry (RKE) transmitter or the memory switch on the driver's door trim panel to return the adjustable pedals to pre-programmed positions. Refer to "Driver Memory Seat" in "Understanding The Features Of Your Vehicle" for further information.
CAUTION! Do not place any article under the adjustable pedals or impede its ability to move as it may cause damage to the pedal controls. Pedal travel may become limited if movement is stopped by an obstruction in the adjustable pedal's path.
WARNING! Do not adjust the pedals while the vehicle is moving.
You could lose control and have an accident. Always adjust the pedals while the vehicle is parked.
READ NEXT:
When engaged, the Electronic Speed Control takes over accelerator operations at speeds greater than 25 mph (40 km/h). The Electronic Speed Control buttons are located on the right side of the steering
The ParkSense Rear Park Assist system provides visual and audible indications of the distance between the rear fascia and a detected obstacle when backing up, e.g. during a parking maneuver. Refer to
The four ParkSense sensors, located in the rear fascia/ bumper, monitor the area behind the vehicle that is within the sensors' field of view. The sensors can detect obstacles from approximately 12 in
SEE MORE:
To order the following manuals, you may use either the website or the phone numbers listed below. Visa, Mastercard, American Express, and Discover orders are accepted. If you prefer mailing your payment, please call for an order form. NOTE: A street address is required when ordering manuals (no P.O
Your RKE transmitters can be programmed to recall one of two pre-programmed memory profiles by pressing the UNLOCK button on the RKE transmitter. NOTE: Before programming your RKE transmitters to memory and If your vehicle is equipped with a touchscreen, you must select the "Memory To FOB" feature t