Ram 1500/2500/3500: Driver Memory Seat - If Equipped
This feature allows the driver to store up to two different memory profiles for easy recall through a memory switch. Each memory profile contains desired position settings for the driver seat, side mirrors, adjustable pedals (if equipped) and a set of desired radio station presets. Your Remote Keyless Entry (RKE) transmitter can also be programmed to recall the same positions when the UNLOCK button is pressed.
NOTE: Your vehicle is equipped with two RKE transmitters.
One RKE transmitter can be linked to memory position 1 and the other transmitter can be linked to memory position 2.
The memory seat buttons are located on the outboard side of the drivers seat cushion.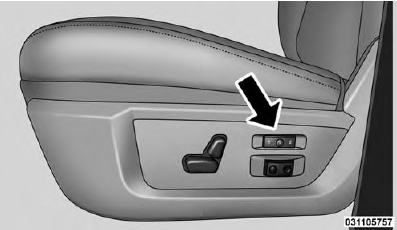 Memory Seat Buttons
READ NEXT:
NOTE: To create a new memory profile, perform the following: Vehicles Equipped With Keyless Enter-N-Go 1. Without pressing the brake pedal, push the ENGINE START/STOP button and cycle the ignition to
Your RKE transmitters can be programmed to recall one of two pre-programmed memory profiles by pressing the UNLOCK button on the RKE transmitter. NOTE: Before programming your RKE transmitters to memo
NOTE: The vehicle must be in PARK to recall memory positions. If a recall is attempted when the vehicle is not in PARK, a message will be displayed in the Electronic Vehicle Information Center (EVIC).
SEE MORE:
The Hazard Warning flasher switch is located on the upper switch bank just below the radio. Press the switch to turn on the Hazard Warning flasher. When the switch is activated, all directional turn signals will flash on and off to warn oncoming traffic of an emergency. Press the switch a second ti
NOTE: To create a new memory profile, perform the following: Vehicles Equipped With Keyless Enter-N-Go 1. Without pressing the brake pedal, push the ENGINE START/STOP button and cycle the ignition to the ON/RUN position (do not start the engine). 2. Adjust all memory profile settings to desired pre