Ram 1500/2500/3500: Easy-Off Tailgate
To simplify mounting of a camper unit with an overhang, the tailgate can be removed.
NOTE: If your vehicle is equipped with a rear camera or RKE the electrical connector must be disconnected prior to removing the tailgate.
Disconnecting The Rear Camera Or Remote Keyless Entry - If Equipped
1. Open the tailgate to access the rear camera or RKE connector bracket located on the rear sill.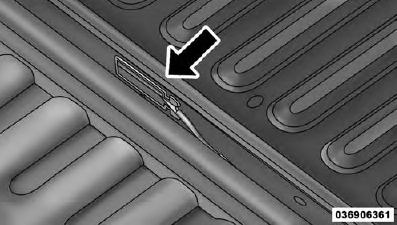 Connector Bracket
2. Remove the connector bracket from the sill by pressing inward in the locking tab.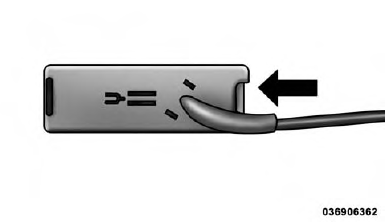 Locking Tab
3. Disconnect the chassis wiring harness, ensuring the connector bracket does not fall into the sill.
4. Connect the chassis plug and bracket (provided in the glove box) to the chassis wiring harness and insert the bracket back into the sill.
5. Connect the tailgate plug (provided in the glove box) to the tailgate wiring harness to ensure that the terminals do not corrode.
6. Tape the tailgate harness and bracket against the forward-facing surface of the tailgate. This will prevent damaging the connector and bracket when storing or reinstalling the tailgate.
Removing The Tailgate
1. Disconnect the wiring harness for the rear camera and or power locks (if equipped), refer to "Disconnecting the Rear Camera - If Equipped" in this section.
2. Unlatch the tailgate and remove the support cables by releasing the lock tang from the pivot.
NOTE: Make sure tailgate is supported when removing support cables.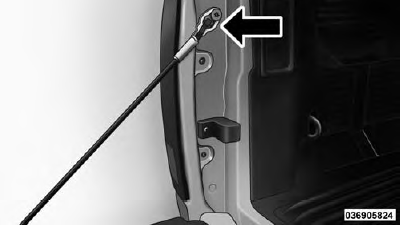 Locking Tang
3. Raise the tailgate to a 45 degree angle.
4. Raise the right side of the tailgate until the right side pivot clears the hanger bracket.
5. Slide the entire tailgate to the right to free the left side pivot.
6. Remove the tailgate from the vehicle.
NOTE: Do not carry the tailgate loose in the truck pickup box.
WARNING! To avoid inhaling carbon monoxide, which is deadly, the exhaust system on vehicles equipped with "Cap or Slide-In Campers" should extend beyond the overhanging camper compartment and be free of leaks.
Locking Tailgate
The lock is located next to the tailgate handle. The tailgate can be locked using the vehicle key or by locking the truck with the key-fob if equipped with remote keyless entry.
READ NEXT:
Your vehicle may be equipped with a Tri-Fold Tonneau Cover which consists of different features: Easy Tri-Fold cover Tonneau fore aft locator Crosscar inside bed locator Front and rear clamps St
To remove the Tonneau Cover follow the following steps: 1. Lower the tailgate to gain access to the first set of two tonneau cover clamps located on the driver and passengers bottom side of the tonnea
To install the Tonneau Cover follow the following steps: 1. Position the folded Tonneau Cover on the truck bed and push the Cover forward against the front of the truck bed. The Tonneau Cover centers
SEE MORE:
Before leaving the vehicle, make sure that the parking brake is fully applied. Also, be certain to leave the transmission in PARK. The foot operated parking brake is located below the lower left corner of the instrument panel. To apply the park brake, firmly push the park brake pedal fully. To rele
The courtesy lights will turn on when you use the Remote Keyless Entry (RKE) transmitter to unlock the doors or open any door. This feature also turns on the approach lighting in the outside mirrors (if equipped). Refer to "Mirrors" in "Understanding The Features Of Your Vehicle" for further inform