Ram 1500/2500/3500: Electrical Power Outlets
The auxiliary 12 Volt (13 Amp) power outlets can provide power for in-cab accessories designed for use with the standard plug. The 12 Volt power outlets have a cap attached to the outlet indicating "12V DC," together with either a key symbol or a battery symbol.
A key symbol indicates that the key must be in the ON/RUN or ACC positions for the outlet to provide power. The battery symbol indicates that the outlet is connected to the battery, and can provide power at all times.
NOTE: To ensure proper operation, a MOPAR knob and element must be used.
The auxiliary power outlets can be found in the following locations:
CAUTION!
Do not exceed the maximum power of 160Watts (13 Amps) at 12 Volts. If the 160Watts (13 Amps) power rating is exceeded, the fuse protecting the system will need to be replaced.
Power outlets are designed for accessory plugs only. Do not insert any other object in the power outlets as this will damage the outlet and blow the fuse. Improper use of the power outlet can cause damage not covered by your New Vehicle Limited Warranty.
Lower left and lower right of the center stack when equipped with a bench seat.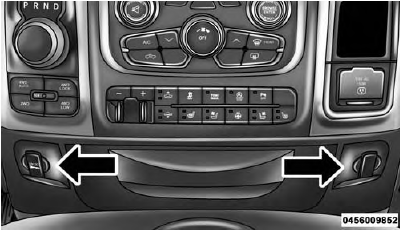 Power Outlets - Center Stack
Center console when equipped with bucket seats.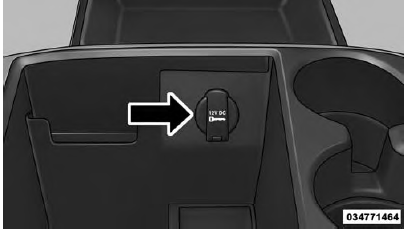 Power Outlet - Center Console
Inside the upper lid of the center storage compartment - if equipped.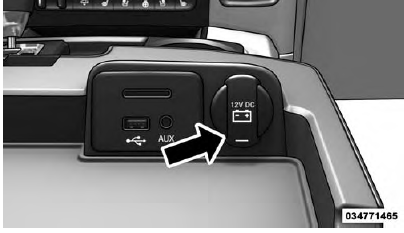 Power Outlet - Upper Lid
Rear of the center console storage compartment - Quad Cab or Crew Cab.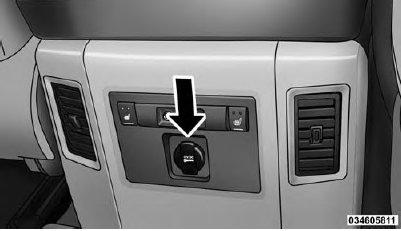 Power Outlet - Rear Center Console
The key symbol indicates that this outlet can supply power when the key is in the ON/RUN or ACC positions.
All accessories connected to the outlet(s) should be removed or turned off when the vehicle is not in use to protect the battery against discharge.
WARNING!
To avoid serious injury or death:
Only devices designed for use in this type of outlet should be inserted into any 12 Volt outlet.
Do not touch with wet hands.
Close the lid when not in use and while driving the vehicle.
If this outlet is mishandled, it may cause an electric shock and failure.
CAUTION!
Many accessories that can be plugged in draw power from the vehicle's battery, even when not in use (i.e., cellular phones, etc.). Eventually, if plugged in long enough, the vehicle's battery will discharge sufficiently to degrade battery life and/or prevent the engine from starting.
Accessories that draw higher power (i.e., coolers, vacuum cleaners, lights, etc.), will discharge the battery even more quickly. Only use these intermittently and with greater caution.
After the use of high power draw accessories, or long periods of the vehicle not being started (with accessories still plugged in), the vehicle must be driven a sufficient length of time to allow the generator to recharge the vehicle's battery.
READ NEXT:
A 115 Volt (150 Watts Maximum) outlet is located on the center stack of the instrument panel, to the right of the radio. This outlet can power cellular phones, electronics and other low power devices
Front Seat Cupholders (40-20-40 Seats) The cupholders are located on the backside of the center portion of the front seat (20). Fold down the center section of the front seat to gain access to the cup
SEE MORE:
The recommended replacement battery is one CR2032 battery. NOTE: Perchlorate Material - special handling may apply. Do not touch the battery terminals that are on the back housing or the printed circuit board. 1. Remove the emergency key by sliding the mechanical latch on the back of the RKE tr
The BAS is designed to optimize the vehicle's braking capability during emergency braking maneuvers. The BAS detects an emergency braking situation by sensing the rate and amount of brake application and then applies optimum pressure to the brakes. The system applies optimum pressure to the brakes i