Ram 1500/2500/3500: Fog Lights - If Equipped
The fog lights are turned on by rotating the headlight switch to the parking light or headlight position and pushing in the headlight rotary control.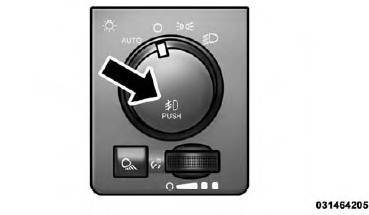 Fog Light Switch
The fog lights will operate only when the parking lights are on or when the vehicle headlights are on low beam.
An indicator light located in the instrument cluster will illuminate when the fog lights are on. The fog lights will turn off when the switch is pushed a second time, when the headlight switch is rotated to the off position, or the high beam is selected.
Lights-On Reminder
If the headlights, parking lights, or cargo lights are left on after the ignition is turned OFF, a chime will sound when the driver's door is opened.
Battery Saver
To protect the life of your vehicle's battery, load shedding is provided for both the interior and exterior lights.
If the ignition is OFF and any door is left ajar for 10 minutes or the dimmer control is rotated all the way up to the dome ON position for 10 minutes, the interior lights will automatically turn off.
If the headlights remain on while the ignition is cycled OFF, the exterior lights will automatically turn off after eight minutes. If the headlights are turned on and left on for eight minutes while the ignition is OFF, the exterior lights will automatically turn off.
NOTE: Battery saver mode is cancelled if the ignition is ON.
READ NEXT:
Courtesy and dome lights are turned on when the front doors are opened, when the dimmer control (rotating wheel on the bottom of the switch) is rotated to the far right detent position. If your vehicl
The cargo lights are turned on by pressing on the cargo button. Cargo Light Switch The cargo lights will also turn on for approximately 30 seconds when a RKE transmitter UNLOCK button is pressed, as
SEE MORE:
The courtesy lights will turn on when you use the Remote Keyless Entry (RKE) transmitter to unlock the doors or open any door. This feature also turns on the approach lighting in the outside mirrors (if equipped). Refer to "Mirrors" in "Understanding The Features Of Your Vehicle" for further inform
The Tire Pressure Monitor System (TPMS) uses wireless technology with wheel rim mounted electronic sensors to monitor tire pressure levels. Sensors mounted to each wheel as part of the valve stem transmit tire pressure readings to the receiver module. NOTE: It is particularly important for you to ch