Ram 1500/2500/3500: Glove Compartment
The glove compartment is located on the passenger side of the instrument panel and features both an upper and lower storage area.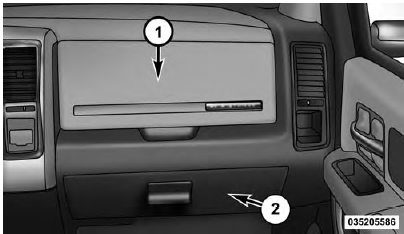 Glove Compartment
Upper Glove Compartment
Lower Glove Compartment
To open the upper glove compartment push upward on the handle release. The glove compartment door will automatically open.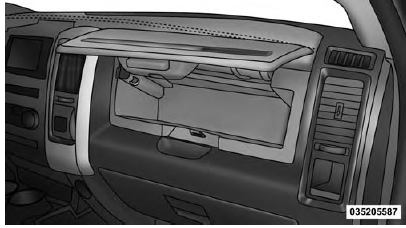 Upper Glove Compartment
To open the lower glove compartment, pull on the handle to release the latch and lower the glove compartment door.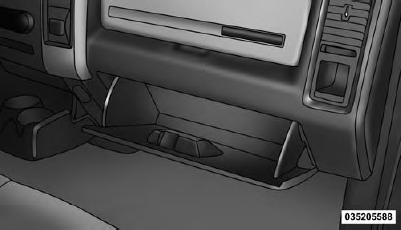 Lower Glove Compartment
READ NEXT:
Front Door Storage - If Equipped Storage areas and bottle holders (drivers side only) are located in the door trim panels. Front Door Storage Rear Door Storage - Crew Cab Storage compartments are loc
The center storage compartment is located between the driver and passenger seats. The storage compartment provides an armrest and contains both and upper and lower storage area. Center Storage Compar
In-floor storage bins are located in front of the second row seats and can be used for extra storage. The storage bins have removable liners that can be easily removed for cleaning. In-Floor Storage
SEE MORE:
Hill climbing requires good judgment and a good understanding of your abilities and your vehicle's limitations. Hills can cause serious problems. Some are just too steep to climb and should not be attempted. You should always feel confident with the vehicle and your abilities. You should always cl
FFV vehicles operated on E-85 require specially formulated engine oils. These special requirements are included in MOPAR engine oils, and in equivalent oils meeting Chrysler Specification MS-6395. The manufacturer only recommends engine oils that are API Certified and meet the requirements of Materi