Ram 1500/2500/3500: Automatic Dimming Mirror With Rear View Camera Display - If Equipped
A single ball joint mirror is provided in the vehicle. It is a twist on mirror that has a fixed position at the windshield.
The mirror installs on the windshield button with a counterclockwise rotation and requires no tools for mounting. The mirror head can be adjusted up, down, left, and right for various drivers. The mirror should be adjusted to center on the view through the rear window.
This mirror automatically adjusts for headlight glare from vehicles behind you.
When the vehicle is placed into reverse gear a video display illuminates to display the image generated by the rear view camera located on the tailgate handle. The auto dimming feature is also disabled to improve rear view viewing.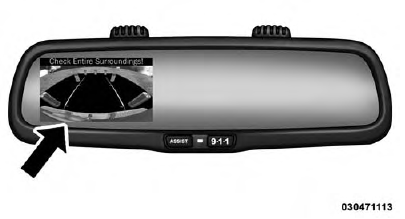 Automatic Dimming Mirror With Rear View Camera
READ NEXT:
To receive maximum benefit, adjust the outside mirrors to center on the adjacent lane of traffic with a slight overlap of the view obtained on the inside mirror. WARNING! Vehicles and other objects se
If equipped with power folding mirrors, they can be electrically folded rearward and unfolded into the drive position. The switch for the power folding mirrors is located between the power mirror swi
The controls for the power mirrors are located on the driver's door trim panel. Power Mirror Controls Location The power mirror controls consist of mirror select buttons and a four-way mirror control
SEE MORE:
After pressing the "Display" soft-key the following settings will be available. Display Mode When in this display you may select one of the auto display settings. To change Mode status, touch and release the "Day." "Night" or "Auto" soft-key. Then touch the back arrow soft-key. Display Brightne
Front Seat Cupholders (40-20-40 Seats) The cupholders are located on the backside of the center portion of the front seat (20). Fold down the center section of the front seat to gain access to the cupholders. Front Instrument Panel Cupholders - Floor Mounted Shifter For vehicles equipped with bucket