Ram 1500/2500/3500: Automatic Dimming Mirror With Rear View Camera Display - If Equipped
A single ball joint mirror is provided in the vehicle. It is a twist on mirror that has a fixed position at the windshield.
The mirror installs on the windshield button with a counterclockwise rotation and requires no tools for mounting. The mirror head can be adjusted up, down, left, and right for various drivers. The mirror should be adjusted to center on the view through the rear window.
This mirror automatically adjusts for headlight glare from vehicles behind you.
When the vehicle is placed into reverse gear a video display illuminates to display the image generated by the rear view camera located on the tailgate handle. The auto dimming feature is also disabled to improve rear view viewing.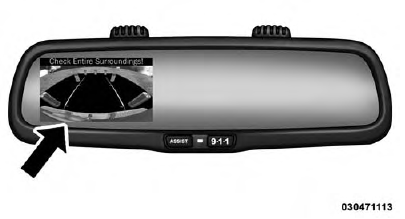 Automatic Dimming Mirror With Rear View Camera
READ NEXT:
To receive maximum benefit, adjust the outside mirrors to center on the adjacent lane of traffic with a slight overlap of the view obtained on the inside mirror. WARNING! Vehicles and other objects se
If equipped with power folding mirrors, they can be electrically folded rearward and unfolded into the drive position. The switch for the power folding mirrors is located between the power mirror swi
The controls for the power mirrors are located on the driver's door trim panel. Power Mirror Controls Location The power mirror controls consist of mirror select buttons and a four-way mirror control
SEE MORE:
Head restraints are designed to reduce the risk of injury by restricting head movement in the event of a rear impact. Head restraints should be adjusted so that the top of the head restraint is located above the top of your ear. WARNING! The head restraints for all occupants must be properly adjust
Proper tire inflation pressure is essential to the safe and satisfactory operation of your vehicle. Three primary areas are affected by improper tire pressure: Safety Economy Ride Comfort And Vehicle Stability Safety WARNING! Improperly inflated tires are dangerous and can cause collisions.