Ram 1500/2500/3500: Power Mirrors - If Equipped
The controls for the power mirrors are located on the driver's door trim panel.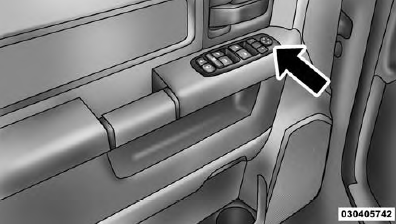 Power Mirror Controls Location
The power mirror controls consist of mirror select buttons and a four-way mirror control switch.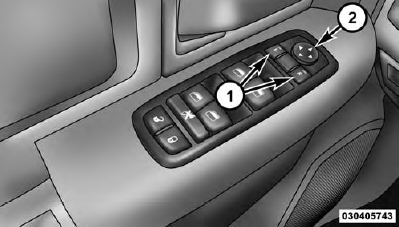 Power Mirror Controls
Mirror Select Buttons
Four-Way Mirror Control Switch
To adjust a mirror, press either the L (left) or R (right) button to select the mirror that you want to adjust.
Using the mirror control switch, press on any of the four arrows for the direction that you want the mirror to move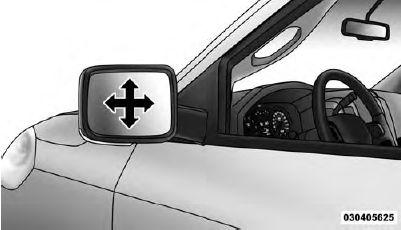 Power Mirror Movement
Heated Mirrors - If Equipped

These mirrors are heated to melt frost or ice. This feature can be activated whenever you turn on the rear window defroster (if equipped). Refer to "Rear Window Features" in "Understanding The Features Of Your Vehicle" for further information.
Driver's Outside Automatic Dimming Mirror - If Equipped
The driver's outside mirror will automatically adjust for glare from vehicles behind you. This feature is controlled by the inside automatic dimming mirror and will automatically adjust for headlight glare when the inside mirror adjusts.
READ NEXT:
Illuminated vanity mirrors are located on each sun visor. To use the mirror, rotate the sun visor down and swing the mirror cover upward. The lights will turn on automatically. Closing the mirror co
Seats are a part of the Occupant Restraint System of the vehicle. WARNING! It is dangerous to ride in a cargo area, inside or outside of a vehicle. In a collision, people riding in these areas are
Some models may be equipped with an eight-way power driver's seat. The power seat switches are located on the outboard side of the driver's seat cushion. There are two power seat switches that are us
SEE MORE:
The manufacturer and its authorized dealer are vitally interested in your satisfaction. We want you to be happy with our products and services. Warranty service must be done by an authorized dealer. We strongly recommend that you take the vehicle to an authorized dealer. They know your vehicle the
Certification Label As required by National Highway Traffic Safety Administration regulations, your vehicle has a certification label affixed to the driver's side door or pillar. This label contains the month and year of manufacture, Gross VehicleWeight Rating (GVWR), Gross AxleWeight Rating (GAWR)