Ram 1500/2500/3500: Engine Compartment - 5.7L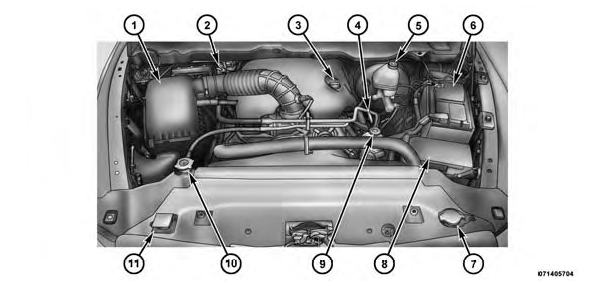 Air Cleaner Filter
Automatic Transmission Dipstick (6-Speed Trans Only)
Engine Oil Fill
Engine Oil Dipstick
Brake Fluid Reservoir
Battery
Washer Fluid Reservoir
Power Distribution Center (Fuses)
Power Steering Fluid Reservoir (2500/3500 Models Only)
Coolant Pressure Cap
Engine Coolant Reservoir
READ NEXT:
Coolant Pressure Bottle Transmission Dipstick Engine Oil Fill Engine Oil Dipstick Brake Fluid Reservoir Battery Power Distribution Center (Fuses) Washer Solvent Power Steering Fluid Reservo
Your vehicle is equipped with a sophisticated onboard diagnostic system called OBD II. This system monitors the performance of the emissions, engine, and automatic transmission control systems. When t
In some localities, it may be a legal requirement to pass an inspection of your vehicle's emissions control system. Failure to pass could prevent vehicle registration. For states that require an Ins
SEE MORE:
The transfer case provides four mode positions. Two-wheel drive high range (2H) Four-wheel drive high range (4H) Neutral (N) Four-wheel drive low range (4L) This transfer case is intended to be driven in the 2H position for normal street and highway conditions such as dry, hard surfaced roads.
The proper cold tire inflation pressure is listed on the driver's side B-Pillar or rear edge of the driver's side door. At least once a month: Check and adjust tire pressure with a good quality pocket-type pressure gauge. Do not make a visual judgement when determining proper inflation. Tires m