Ram 1500/2500/3500: Introduction
INTRODUCTION
Congratulations on selecting your new Chrysler Group LLC vehicle. Be assured that it represents precision workmanship, distinctive styling, and high quality - all essentials that are traditional to our vehicles.
This Owner's Manual has been prepared with the assistance of service and engineering specialists to acquaint you with the operation and maintenance of your vehicle.
It is supplemented by Warranty Information, and various customer-oriented documents. Please take the time to read these publications carefully. Following the instructions and recommendations in this manual will help assure safe and enjoyable operation of your vehicle.
NOTE: After reviewing the owner information, it should be stored in the vehicle for convenient referencing and remain with the vehicle when sold.
When it comes to service, remember that your authorized dealer knows your vehicle best, has factory-trained technicians and genuine parts, and cares about your satisfaction.
HOW TO USE THIS MANUAL
Consult the Table of Contents to determine which section contains the information you desire.
Since the specification of your vehicle depends on the items of equipment ordered, certain descriptions and illustrations may differ from your vehicle's equipment.
The detailed index at the back of this Owner's Manual contains a complete listing of all subjects.
Consult the following table for a description of the symbols that may be used on your vehicle or throughout this Owner's Manual: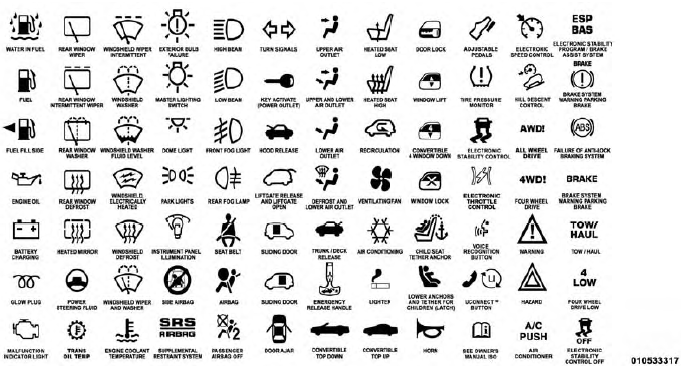 WARNINGS AND CAUTIONS
This Owners Manual contains WARNINGS against operating procedures that could result in a collision or bodily injury. It also contains CAUTIONS against procedures that could result in damage to your vehicle. If you do not read this entire Owners Manual, you may miss important information. Observe all Warnings and Cautions.
VAN CONVERSIONS/CAMPERS
The New Vehicle Limited Warranty does not apply to body modifications or special equipment installed by van conversion/camper manufacturers/body builders. Refer to the Warranty Information book, Section 2.1.C. Such equipment includes video monitors, VCRs, heaters, stoves, refrigerators, etc. For warranty coverage and service on these items, contact the applicable manufacturer.
Operating instructions for the special equipment installed by the conversion/camper manufacturer should also be supplied with your vehicle. If these instructions are missing, please contact your authorized dealer for assistance in obtaining replacement documents from the applicable manufacturer.
For information on the Body Builders Guide refer to: www.rambodybuilder.com. This website contains dimensional and technical specifications for your vehicle. It is intended for Second Stage Manufacturer's technical support. For service issues, contact your authorized dealer.
VEHICLE IDENTIFICATION NUMBER
The Vehicle Identification Number (VIN) is found on the left front corner of the instrument panel, visible through the windshield. This number also appears on the vehicle frame and underbody as well as the Automobile Information Disclosure Label affixed to a window on your vehicle, the vehicle registration and title.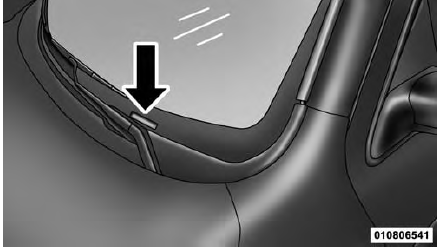 Vehicle Identification Number
NOTE: It is illegal to remove or alter the VIN.
VEHICLE MODIFICATIONS/ALTERATIONS
WARNING! Any modifications or alterations to this vehicle could seriously affect its roadworthiness and safety and may lead to a collision resulting in serious injury or death.
READ NEXT:
Your vehicle uses either a key start ignition system or keyless ignition system. The key start ignition system consists of a either a bladed key with an immobilizer chip in it, or a Key Fob with Remot
The Sentry Key Immobilizer System prevents unauthorized vehicle operation by disabling the engine. The system does not need to be armed or activated. Operation is automatic, regardless of whether the
SEE MORE:
WARNING! You or others can be badly burned by hot engine coolant (antifreeze) or steam from your radiator. If you see or hear steam coming from under the hood, do not open the hood until the radiator has had time to cool. Never try to open a cooling system pressure cap when the radiator is hot. Engi
WARNING! Failure to observe any of these warnings regarding proper winch usage may result in severe injury. Always use supplied hook strap to hold the hook when spooling wire rope in or out. Never use as a hoist. Never use to move persons. Never exceed winch or wire rope rated capacity. Alway