Ram 1500/2500/3500: Locking And Unlocking RamBox
Press and release the LOCK or UNLOCK button on the RKE transmitter to lock and unlock all doors, the tailgate and the RamBox (if equipped). Refer to "Remote Keyless Entry" for further details. The RamBox storage bins can be locked using the vehicle key. To lock and unlock the storage bin, insert the key into the keyhole on the pushbutton and turn clockwise to lock or counterclockwise to unlock. Always return the key to the upright (vertical) position before removing the key from the pushbutton.
CAUTION!
Ensure cargo bin lids are closed and latched before moving or driving vehicle.
Loads applied to the top of the bin lid should be minimized to prevent damage to the lid and latching/hinging mechanisms.
Damage to the RamBox bin may occur due to heavy/sharp objects placed in bin that shift due to vehicle motion. In order to minimize potential for damage, secure all cargo to prevent movement and protect inside surfaces of bin from heavy/sharp objects with appropriate padding.
RamBox Safety Warning
Carefully follow these warnings to help prevent personal injury or damage to your vehicle:
WARNING!
Always close the storage bin covers when your vehicle is unattended.
Do not allow children to have access to the storage bins. Once in the storage bin, young children may not be able to escape. If trapped in the storage bin, children can die from suffocation or heat stroke.
In an accident, serious injury could result if the storage bin covers are not properly latched.
Do not drive the vehicle with the storage bin covers open.
Keep the storage bin covers closed and latched while the vehicle is in motion.
Do not use a storage bin latch as a tie down.
RamBox Storage Bin Cover Emergency Release Lever - If Equipped
As a security measure, a Storage Bin Cover Emergency Release is built into the storage bin cover latching mechanism.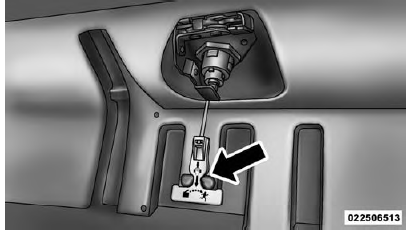 Storage Bin Cover Emergency Release Lever
NOTE: In the event of an individual being locked inside the storage bin, the storage bin cover can be opened from inside of the bin by pulling on the glow-in-the-dark lever attached to the storage bin cover latching mechanism.
READ NEXT:
The bed extender has three functional positions: Storage Position Divider Position Extender Position Storage Position The storage position for the bed extender is at the front of the truck bed wh
CAUTION! The maximum load per cleat should not exceed 250 lbs (113 kg) and the angle of the load on each cleat should not exceed 45 degrees above horizontal, or damage to the cleat or cleat rail may o
Camper Applications Certain truck models are not recommended for slide-in campers. To determine if your vehicle is excluded, please refer to the "Consumer Information Truck-Camper Loading" document av
SEE MORE:
Use of genuine MOPAR parts for normal/scheduled maintenance and repairs is highly recommended to ensure the designed performance. Damage or failures caused by the use of non-MOPAR parts for maintenance and repairs will not be covered by the New Vehicle Limited Warranty. Dealer Service Your authorize
The information in this section is for Flexible Fuel vehicles only. These vehicles can be identified by a unique fuel filler door label that states Ethanol (E-85) or Unleaded Gasoline Only. This section only covers those subjects that are unique to these vehicles. Please refer to the other sections