Ram 1500/2500/3500: Bed Rail Tie-Down System
CAUTION! The maximum load per cleat should not exceed 250 lbs (113 kg) and the angle of the load on each cleat should not exceed 45 degrees above horizontal, or damage to the cleat or cleat rail may occur.
There are two adjustable cleats on each side of the bed that can be used to assist in securing cargo.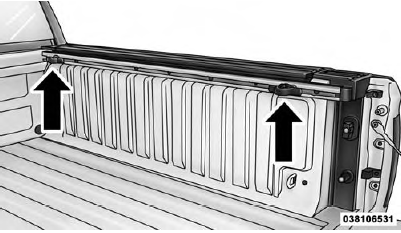 Adjustable Cleats
Each cleat must be located and tightened down in one of the detents, along either rail, in order to keep cargo properly secure.
To move the cleat to any position on the rail, turn the nut counterclockwise, approximately three turns. Then pull out on the cleat and slide it to the detent nearest the desired location. Make sure the cleat is seated in the detent and tighten the nut.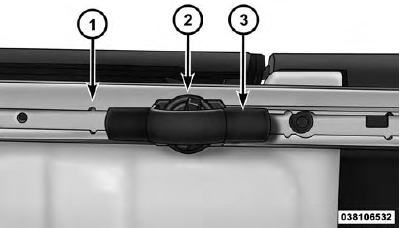 Utility Rail Detent
Cleat Retainer Nut
Utility Rail Cleat
To remove the cleats from the utility rail, remove the end cap screw located in the center of the end cap, using a #T30 Torx head driver. Remove the end cap and slide the cleat off the end of the rail.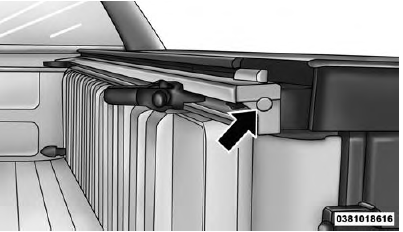 Utility Rail End Cap
READ NEXT:
Camper Applications Certain truck models are not recommended for slide-in campers. To determine if your vehicle is excluded, please refer to the "Consumer Information Truck-Camper Loading" document av
To simplify mounting of a camper unit with an overhang, the tailgate can be removed. NOTE: If your vehicle is equipped with a rear camera or RKE the electrical connector must be disconnected prior to
Your vehicle may be equipped with a Tri-Fold Tonneau Cover which consists of different features: Easy Tri-Fold cover Tonneau fore aft locator Crosscar inside bed locator Front and rear clamps St
SEE MORE:
Extreme care should be taken crossing any type of water. Water crossings should be avoided if possible and only be attempted when necessary, in a safe responsible manner. You should only drive through areas which are designated and approved. You should tread lightly and avoid damage to the environm
NOTE: The vehicle must be in PARK to recall memory positions. If a recall is attempted when the vehicle is not in PARK, a message will be displayed in the Electronic Vehicle Information Center (EVIC). Driver One Memory Position Recall To recall the memory settings for driver one using the memory