Ram 1500/2500/3500: Overhead Console - If Equipped
The overhead console is located on the headliner above the review mirror. The overhead console contains the following features:
Courtesy/Reading Lights
Power Sunroof Switch - If Equipped
Power Sliding Rear Window Switch - If Equipped
Universal Garage Door Opener - If Equipped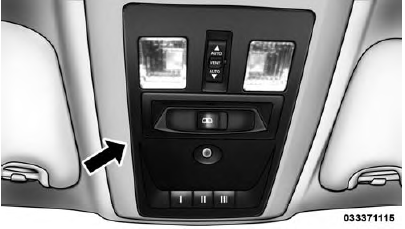 Overhead Console
Courtesy/Reading Lights
Both lights in the overhead console and rear passenger compartment will illuminate as courtesy lights when a door is opened, when the dimmer control is rotated to the courtesy light position (full right position), or when the UNLOCK button is pressed on the Remote Keyless Entry (RKE) transmitter, if equipped. These lights are also operated individually as reading lights by pressing on the corresponding lens.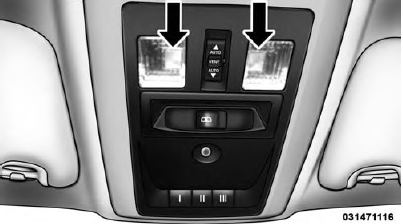 Front Courtesy/Reading Lights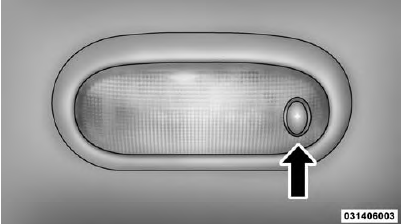 Rear Passenger Courtesy/Reading Light
NOTE: The courtesy/reading lights will remain on until the switch is pressed a second time, so be sure they have been turned off before leaving the vehicle. If the interior lights are left on after the ignition is turned OFF, they will automatically turn off after 15 minutes.
READ NEXT:
HomeLink replaces up to three hand-held transmitters that operate devices such as garage door openers, motorized gates, lighting or home security systems. The HomeLink unit is powered by your vehicles
Ensure your vehicle is parked outside of the garage before you begin programming. For efficient programming and accurate transmission of the radio-frequency signal it is recommended that a new batter
For programming garage door openers that were manufactured after 1995. These garage door openers can be identified by the "LEARN" or "TRAIN" button located where the hanging antenna is attached to the
SEE MORE:
A long break-in period is not required for the engine and drivetrain (transmission and axle) in your vehicle. Drive moderately during the first 300 miles (500 km). After the initial 60 miles (100 km), speeds up to 50 or 55 mph (80 or 90 km/h) are desirable. While cruising, brief full-throttle acc
To order the following manuals, you may use either the website or the phone numbers listed below. Visa, Mastercard, American Express, and Discover orders are accepted. If you prefer mailing your payment, please call for an order form. NOTE: A street address is required when ordering manuals (no P.O