Ram 1500/2500/3500: Parking Brake
Before leaving the vehicle, make sure that the parking brake is fully applied. Also, be certain to leave the transmission in PARK.
The foot operated parking brake is located below the lower left corner of the instrument panel. To apply the park brake, firmly push the park brake pedal fully. To release the parking brake, pull the parking brake release handle.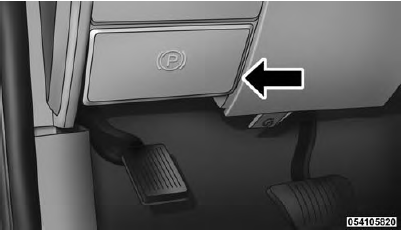 Parking Brake Release
When the parking brake is applied with the ignition switch ON, the "Brake Warning Light" in the instrument cluster will illuminate.
NOTE:
When parking on a hill, it is important to turn the front wheels toward the curb on a downhill grade and away from the curb on an uphill grade. Apply the parking brake before placing the shift lever in PARK, otherwise the load on the transmission locking mechanism may make it difficult to move the shift lever out of PARK. The parking brake should always be applied whenever the driver is not in the vehicle.
WARNING!
Never use the PARK position as a substitute for the parking brake. Always apply the parking brake fully when parked to guard against vehicle movement and possible injury or damage.
Never leave children alone in a vehicle, or with access to an unlocked vehicle. Leaving unattended children in a vehicle is dangerous for a number of reasons. A child or others could be seriously or fatally injured.
Do not leave the Key Fob in or near the vehicle, or in a location accessible to children, and do not leave a vehicle equipped with Keyless Enter-N-Go in the ACC or ON/RUN mode. A child could operate power windows, other controls, or move the vehicle.
Be sure the parking brake is fully disengaged before driving; failure to do so can lead to brake failure and a collision.
Always fully apply the parking brake when leaving your vehicle or it may roll and cause damage or injury. Also, be certain to leave the transmission in PARK. Failure to do so may cause the vehicle to roll and cause damage or injury.
CAUTION! If the Brake System Warning Light remains on with the parking brake released, a brake system malfunction is indicated. Have the brake system serviced by an authorized dealer immediately.
READ NEXT:
If power assist is lost for any reason (for example, repeated brake applications with the engine off), the brakes will still function. However, you will experience a substantial increase in braking ef
The ABS aids the driver in maintaining vehicle control under adverse braking conditions. The system controls hydraulic brake pressure to prevent wheel lockup and help avoid skidding on slippery surfac
SEE MORE:
WARNING! You or others can be badly burned by hot engine coolant (antifreeze) or steam from your radiator. If you see or hear steam coming from under the hood, do not open the hood until the radiator has had time to cool. Never try to open a cooling system pressure cap when the radiator is hot. Engi
If you are storing your vehicle for more than 21 days, we recommend that you take the following steps to minimize the drain on your vehicle's battery: Disconnect the negative cable from battery. Any time you store your vehicle or keep it out of service (i.e., vacation) for two weeks or more, run