Ram 1500/2500/3500: Supplemental Restraint System (SRS) - Air Bags
This vehicle has Advanced Front Air Bags for both the driver and front passenger as a supplement to the seat belt restraint systems. The driver's Advanced Front Air Bag is mounted in the center of the steering wheel. The passenger's Advanced Front Air Bag is mounted in the instrument panel, above the glove compartment. The words SRS AIRBAG are embossed on the air bag covers.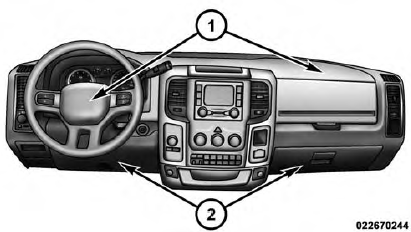 Advanced Front Air Bag And Knee Bolster Locations
Driver And Passenger Advanced Front Air Bags
Knee Bolster
NOTE: The Driver and Front Passenger Advanced Front Air Bags are certified to the new Federal regulations for Advanced Air Bags.
The Advanced Front Air Bags have a multistage inflator design. This allows the air bag to have different rates of inflation based on several factors, including the severity and type of collision.
This vehicle may be equipped with a driver and/or front passenger seat belt buckle switch that detects whether the driver or front passenger seat belt is fastened. The seat belt buckle switch may adjust the inflation rate of the Advanced Front Air Bags.
This vehicle may also be equipped with Supplemental Side Air Bag Inflatable Curtains (SABIC) to protect the driver, front, and rear passengers sitting next to a window.
If the vehicle is equipped with SABIC air bags, they are located above the side windows and their covers are labeled: SRS AIRBAG.
This vehicle is equipped with Supplemental Seat- Mounted Side Air Bags (SAB) to provide enhanced protection for an occupant during a side impact. The Supplemental Seat-Mounted Side Air Bags are located in the outboard side of the front seats.
NOTE:
Air Bag covers may not be obvious in the interior trim, but they will open during air bag deployment.
After any collision, the vehicle should be taken to an authorized dealer immediately.
Air Bag System Components
Your vehicle may be equipped with the following air bag system components:
Occupant Restraint Controller (ORC)
Air Bag Warning Light
Steering Wheel and Column
Instrument Panel
Knee Impact Bolsters
Driver Advanced Front Air Bag
Passenger Advanced Front Air Bag
Supplemental Seat-Mounted Side Air Bags (SAB)
Supplemental Side Air Bag Inflatable Curtains (SABIC) - if equipped
Front and Side Impact Sensors
Seat Belt Buckle Switch
Seat Belt Pretensioners
READ NEXT:
The Advanced Front Air Bag system has multistage driver and front passenger air bags. This system provides output appropriate to the severity and type of collision as determined by the Occupant Restra
Occupant Restraint Controller (ORC) The ORC is part of a Federally regulated safety system required for this vehicle. The ORC determines if deployment of the front and/or side air bags in a frontal o
The Driver and Passenger Advanced Front Air Bag Inflator Units are located in the center of the steering wheel and on the right side of the instrument panel. When the ORC detects a collision requirin
SEE MORE:
1. Tighten the jack all the way down by turning the jack turn-screw counterclockwise until the jack is snug. 2. Position the jack and tools into bracket assembly. Make sure the lug wrench is under the jack near the jack turn-screw. Snap tools into bracket assembly clips. Install the jack into bra
The transmission gear position display (located in the instrument cluster) indicates the transmission gear range. The shift lever is mounted on the right side of the steering column. You must press the brake pedal to move the shift lever out of PARK (refer to "Brake/Transmission Shift Interlock Sys