Ram 1500/2500/3500: Adjustable Upper Shoulder Belt Anchorage
In the front row outboard seats, the shoulder belt can be adjusted upward or downward to help position the belt away from your neck. Press the button located on the upper belt guide, and then move it up or down to the position that fits you best.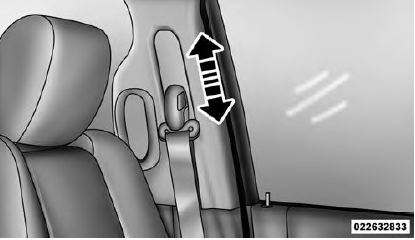 Adjusting Upper Shoulder Belt
As a guide, if you are shorter than average you will prefer a lower position, and if you are taller than average you will prefer a higher position. When you release the anchorage, try to move it up or down to make sure that it is locked in position.
Center Lap Belts
The center seating position for the Quad Cab, Mega Cab and Crew Cab front seat has a lap belt only. To fasten the lap belt, slide the latch plate into the buckle until you hear a "click". To lengthen the lap belt, tilt the latch plate and pull. To remove slack, pull the loose end of the webbing. Wear the lap belt snug against the hips.
Sit back and erect in the seat, then adjust the belt as tightly as is comfortable.
WARNING!
A lap belt worn too loose or too high is dangerous.
A belt worn too loose can allow you to slip down and under the belt in a collision.
A belt that is too loose or too high will apply crash forces to the abdomen, not to the stronger hip bones. In either case, the risk of internal injuries is greater. Wear a lap belt low and snug.
READ NEXT:
The seat belts in the passenger seating positions are equipped with either a switchable Automatic Locking Retractors (ALR) or with a Cinching Latchplate which is used to secure a child restraint syste
In this mode, the shoulder belt is automatically prelocked. The belt will still retract to remove any slack in the shoulder belt. When To Use The Automatic Locking Mode Use the Automatic Locking Mode
BeltAlert is a feature intended to remind the driver and front passenger (if equipped with front passenger BeltAlert) to fasten their seat belts. The feature is active whenever the ignition is on. If
SEE MORE:
Your vehicle is equipped with plastic headlights and fog lights that are lighter and less susceptible to stone breakage than glass headlights. Plastic is not as scratch resistant as glass and therefore different lens cleaning procedures must be followed. To minimize the possibility of scratching t
1. Tachometer The tachometer indicates engine speed in Revolutions Per Minute (RPM x 1000). CAUTION! Do not operate the engine with the tachometer pointer at high RPM for extended periods. Engine operation over 3200 RPM (Redline) can result in significant damage that will not be covered under the Ne