Ram 1500/2500/3500: E-85 General Information
The information in this section is for Flexible Fuel vehicles only. These vehicles can be identified by a unique fuel filler door label that states Ethanol (E-85) or Unleaded Gasoline Only. This section only covers those subjects that are unique to these vehicles. Please refer to the other sections of this manual for information on features that are common between Flexible Fuel and gasoline-only powered vehicles.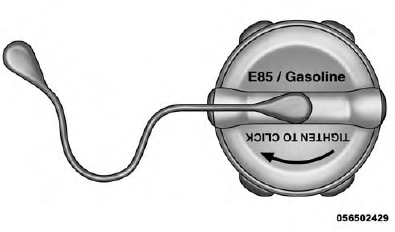 E-85 Fuel Cap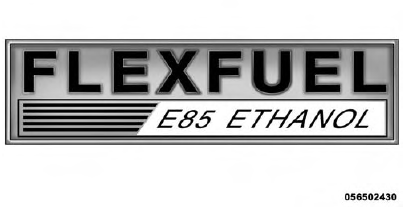 E-85 Badge
Ethanol Fuel (E-85)
E-85 is a mixture of approximately 85% fuel ethanol and 15% unleaded gasoline.
WARNING! Ethanol vapors are extremely flammable and could cause serious personal injury. Do not use E-85 as a cleaning agent and never use it near an open flame.
Fuel Requirements
Your vehicle will operate on both unleaded gasoline with an octane rating of 87, or E-85 fuel, or any mixture of these two. For best results, a refueling pattern that alternates between E-85 and unleaded gasoline should be avoided.
When you do switch fuel types it is recommended that:
you do not add less than 5 gallons (19 Liters) when refueling
you operate the vehicle immediately after refueling for a period of at least 5 minutes
Observing these precautions will avoid possible hard starting and/or significant deterioration in driveability during warm up.
NOTE:
When the ambient temperature is above 90º F (32º C), you may experience hard starting and rough idle following start up even if the above recommendations are followed.
Some additives used in regular gasoline are not fully compatible with E-85 and may form deposits in your engine. To eliminate driveability issues that may be caused by these deposits, a supplemental gasoline additive, such as MOPAR Injector Cleanup or Techron may be used.
READ NEXT:
FFV vehicles operated on E-85 require specially formulated engine oils. These special requirements are included in MOPAR engine oils, and in equivalent oils meeting Chrysler Specification MS-6395. The
The fuel filler cap (gas cap) is located behind the fuel filler door, on the left side of the vehicle. Open the fuel door and remove the fuel cap by turning it counterclockwise. Fuel Filler Cap NOTE:
Certification Label As required by National Highway Traffic Safety Administration regulations, your vehicle has a certification label affixed to the driver's side door or pillar. This label contains t
SEE MORE:
When the vehicle is in REVERSE, the warning display will turn ON indicating the system status. The system will indicate a detected obstacle by showing a single arc in the left and/or right rear regions based on the object's distance and location relative to the vehicle. If an object is detected in
A single ball joint mirror is provided in the vehicle. It is a twist on mirror that has a fixed position at the windshield. The mirror installs on the windshield button with a counterclockwise rotation and requires no tools for mounting. The mirror head can be adjusted up, down, left, and right for