Ram 1500/2500/3500: Vehicle Storage
If you are storing your vehicle for more than 21 days, we recommend that you take the following steps to minimize the drain on your vehicle's battery:
Disconnect the negative cable from battery.
Any time you store your vehicle or keep it out of service (i.e., vacation) for two weeks or more, run the air conditioning system at idle for about five minutes in the fresh air and high blower setting. This will ensure adequate system lubrication to minimize the possibility of compressor damage when the system is started again.
Replacement Bulbs
All of the inside bulbs are brass or glass-wedge base.
Aluminum base bulbs are not approved.
Interior Bulbs

Exterior Bulbs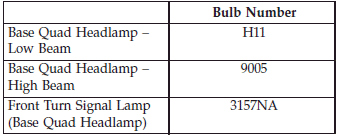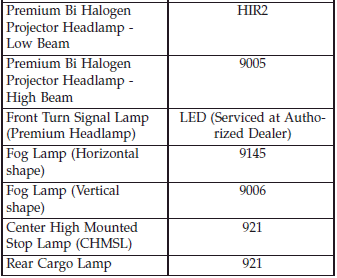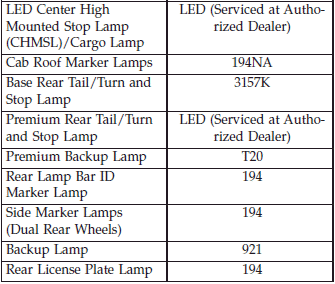 READ NEXT:
NOTE: Lens fogging can occur under certain atmospheric conditions. This will usually clear as atmospheric conditions change to allow the condensation to change back into a vapor. Turning the lamps on
Your vehicle is equipped with an automatic oil change indicator system. The oil change indicator system will remind you that it is time to take your vehicle in for scheduled maintenance. Based on eng
SEE MORE:
Front ParkSense can be enabled and disabled with the Front ParkSense switch. Rear ParkSense can be enabled and disabled with the Rear ParkSense switch. When the Front or Rear ParkSense switch is pressed to disable the system, the instrument cluster will display the "PARKSENSE OFF" message for appr
The engine block heater warms the engine, and permits quicker starts in cold weather. Connect the cord to a standard 110-115 Volt AC electrical outlet with a grounded, three-wire extension cord. 1500 Models The engine block heater cord is routed under the hood on the passenger side of the vehicle ne